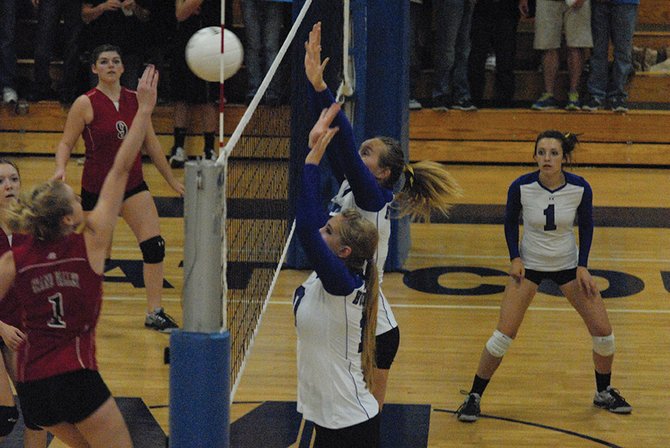 Laurel Tegtman (front) and Brittney Rothermund go up for a block during the second set of Tuesday's match against Grand Valley at Moffat County High School. The Bulldogs won in five sets.
Stories this photo appears in:

It was more tense than it needed to be, but the Moffat County volleyball team did its part to get homecoming week going. The Bulldogs (3-11) beat Grand Valley (6-7) in a wild five set match Tuesday night in the MCHS gym, 25-23, 25-18, 29-31, 21-25, 15-4. They earned the win while overcoming more than just their opponents. After the first two sets, it looked like a comfortable win was on the way for Moffat County. They had been the stronger team, especially in the second set when they took a lead early and pulled away at the end of the set. But in the third set, a point was taken from Moffat County due to their lineup being incorrect. Head coach Sandy Camilletti explained it was her fault after the match.
October 2, 2012 10:38 p.m.