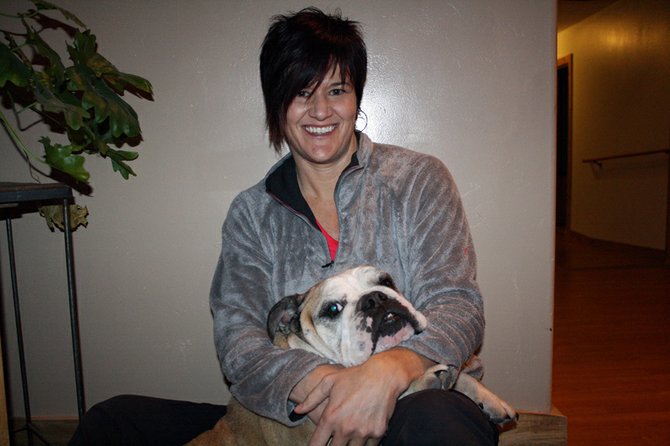 Karrie Booth, owner and manager of Holistic Health and Fitness in Craig, sits with her dog Rampage. Booth says the best advice for those trying to start their weight loss or fitness journey is to set a goal and believe.
Stories this photo appears in:

Hometown: "I don't really have one. I kind of grew up all over the place. I lived on the east coast until I was 12. I lived down south until I was 18. Then I've been in Colorado since I graduated from high school. College brought me out to Colorado. I went to CSU." What brought you to Craig: "I wanted to be in Steamboat, couldn't afford it. Ended up in Hayden. When I got divorced, I ended up in Craig. Long story short.' How long have you lived in Craig: "10 years" Job title: "I don't know how to answer that, I do everything here. The chicken with her head cut off. (laughs) Well I'm majority owner, manager, I'm also a personal trainer, I do exercise classes, and a massage therapist, wellness coach. I guess owner/manager would be it."