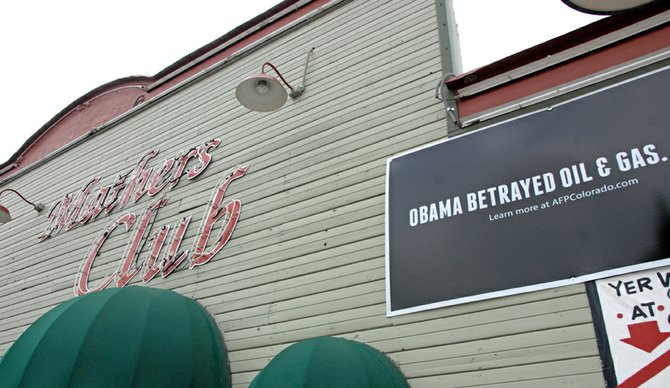 An "Obama betrayed oil & gas" sign hangs above the front entrance to Mathers' Bar, 420 Yampa Ave. Owner, and Moffat County Commissioner, Tom Mathers said this week he is worried about the state of the county following the re-election of President Barack Obama.
Stories this photo appears in:

Last week Moffat County voters arrived at the polls and voiced, by an overwhelming majority, their desire for a new leader in the Oval Office. Republican candidate Gov. Mitt Romney won big here earning 4,695 of the 6,239 ballots cast in Moffat County and topped incumbent President Barack Obama by a more than three to one margin. But Obama reclaimed the big prize by winning the Electoral College and carrying the national popular vote by almost 3.5 million votes. For some local residents Obama's re-election was a bitter defeat.