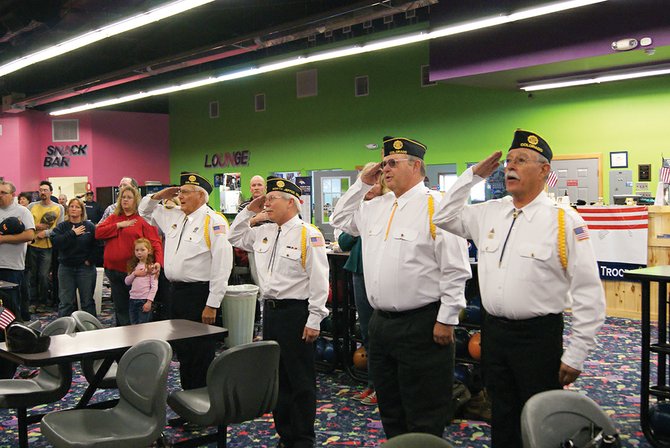 Craig American Legion members (from right) Jake Garcia, Bill White, Michael Lausin and Al Shepherd lead Thunder Rolls bowling alley in the Pledge of Allegiance Sunday at Thunder Rolls Bowling Center. Thunder Rolls hosted a Bowling for Veterans event to raise money for
Stories this photo appears in:

The 2012 version of Bowling for Veterans turned out to be a bigger success than its first run two years ago. The Bowl for Veterans event from noon to 4 p.m. at Thunder Rolls Bowling Center brought members of the community out for its entirety, encouraging Beryl Dschaak, owner of the bowling alley. "This is a very important day, I'm very patriotic," Dschaak said about the Sunday event. "It turned out better this year. I'm still a little disappointed in the community, but I am so happy for the support we got."
November 11, 2012 5:26 p.m.