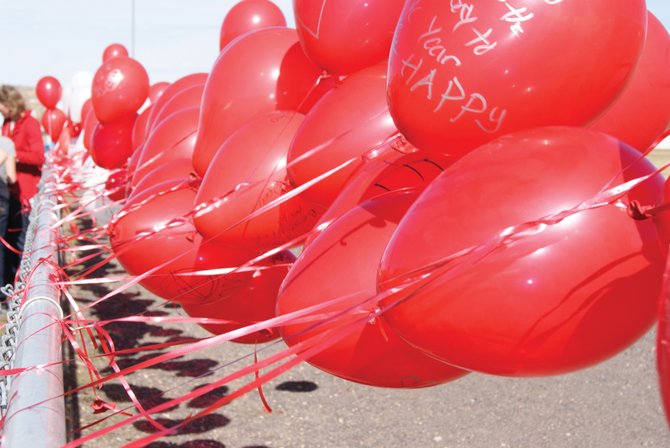 Red and white balloons line the fence at Craig Middle School Tuesday afternoon. Part of Red Ribbon Week, a drug and alcohol prevention campaign, students wrote drug free messages on the balloons and then released them into the air.
Stories this photo appears in:

Most kids in middle school have heard the spiel, "don't do drugs, they're bad for you." A staple in children's education, the message seems to stick more coming from someone who's lived it. In a presentation to Craig Middle School 8th graders Tuesday afternoon, as part of Red Ribbon Week, a week of student awareness on drug and alcohol abuse, Matt Beckett, Moffat County Director of Grand Futures Prevention Coalition, warned students about the increased risks they would face entering high school. Craig resident Matt Beckett's downward spiral from popular athlete to druggie in jail, a story so outrageous and yet relatable at the same time, allows students to see how easily they too might fall prey to the allure of drugs and alcohol.
November 1, 2012 5:55 p.m.