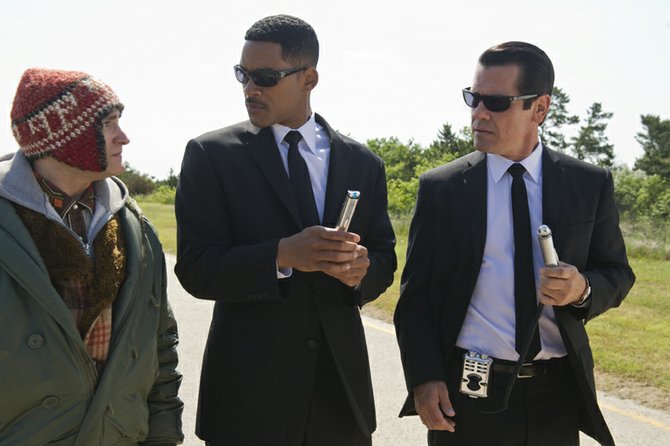 Agents J and K (Will Smith, Josh Brolin) pull out their neuralyzers a bit prematurely in "Men in Black 3." The movie, the third about a secret Earth agency of alien affairs, focuses on J traveling from the present to 1969 to prevent a younger K from being assassinated.

Stories this photo appears in:

Movie trilogies are a tricky thing. For every "Toy Story 3" released there are about five disappointments like "The Godfather Part III" that just can't stand with the origjnal, even on its own merits. Such is the case of "Men in Black 3." Working for the Men in Black agency can take a lot out of a guy. Years of monitoring and policing alien activities have left Agent K (Tommy Lee Jones) hardened to the process, and his partner J (Will Smith) has had more than enough of his associate's attitude. With the reemergence of a psychotic lifeform named Boris (Jemaine Clement) who has been imprisoned in a moon institution for decades, K warns J he could be killed off at any time. With all the weird, threatening things he's seen since entering the job, J has little worries for K's safety.