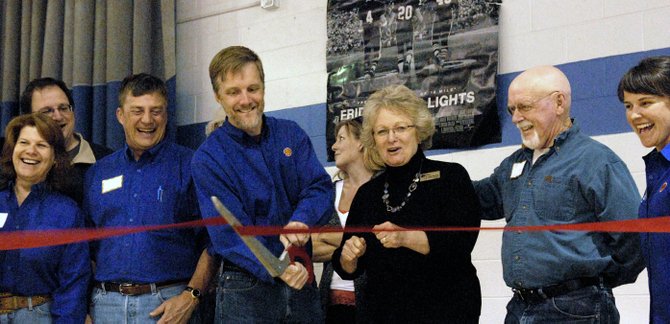 Moffat County Commissioner Audrey Danner, middle right, and Craig Mayor Terry Carwile, to her right, participate in a ribbon-cutting ceremony at Thursday's Shell open house in Craig. The ceremony was hosted by the Craig Chamber of Commerce to welcome Shell as a new Chamber member.
Stories this photo appears in:

Matt Holman, project lead for Shell's Northwest Colorado operations, measures the success of a public meeting in an interesting way. "It's about educating people on what you're doing, being honest and making good local contacts," Holman said. "I've got seven new contacts here and one of Shell's hallmarks in hosting these events is to mature these contacts into local vendors that we'll use. "We want to be able to demonstrate to the community that we're using the people that already live right here. It's really difficult to do that if you don't have the contacts or the people in place to interface with the company." More than 200 people attended Shell's open house Thursday at the Boys & Girls Club of Northwest Colorado in Craig to learn more about the company, the company's operations plan for Moffat County and Shell's policies regarding drilling, safety, environmental protections and community involvement.