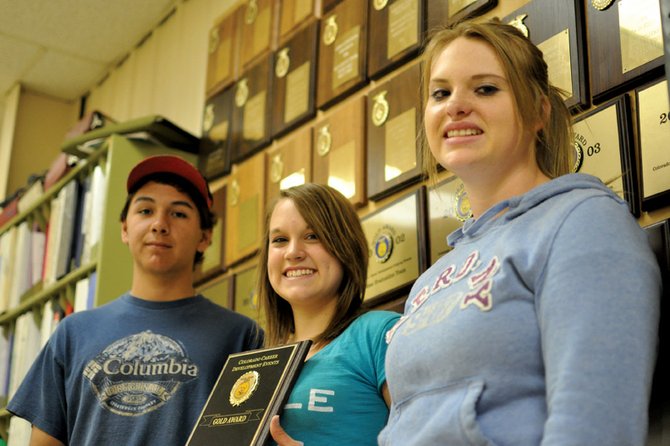 From left, Brady Martinez, Emily Wellman and Makayla Goodnow, members of the Moffat County High School Future Farmers of America meat judging team, pose for a photo Tuesday at the high school's agricultural shop. Their team, which included MCHS junior Tyler Hildebrandt, took the state title in meat judging during an FFA event April 30 in Fort Collins.
Stories this photo appears in:

Makayla Goodnow may never look at steak the same way again. The Moffat County High School senior now knows what constitutes a good piece of meat, where the most tender cuts can be found on an animal, and what it means when a cut is labeled "select" or "prime," she said, thanks all to the school's Future Farmers of America meat judging team. She and her teammates — senior Emily Wellman and juniors Brady Martinez and Tyler Hildebrandt — had to become intimately familiar with meat production to prepare for an FFA state competition this spring. "It was fun realizing how much you're actually learning and how you can use it in everyday life," Wellman said.