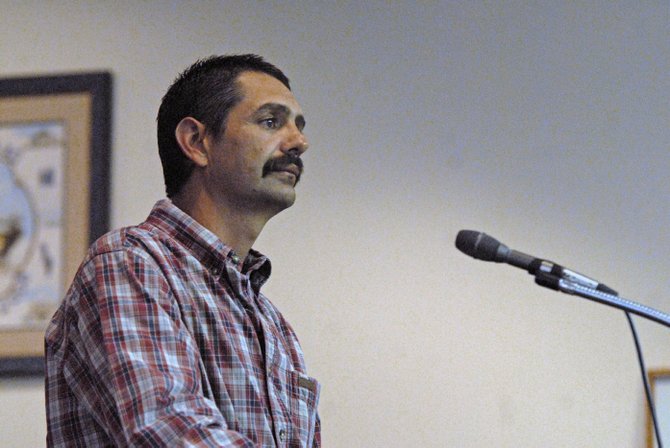 Victor Tarango stands before the Craig City Council on Tuesday night during a public hearing to discuss the approval of his application for liquor and retail gaming licenses for a proposed night club in Craig. The application was unanimously denied because Tarango failed to declare two 2011 criminal convictions — one for illegally transporting horses infected with Equine Piroplasmosis and another for disorderly conduct, according to a background investigation conducted by Craig Police Department Commander Bill Leonard.
Stories this photo appears in:

More than 20 residents attended Tuesday's Craig City Council meeting to participate in a public hearing on a proposed night club in Craig. The audience was split between those in support of Steamboat Springs resident Victor Tarango and those against Tarango's Night Club, which was slated to be located at 535 Green St. Tarango appeared before the council in late March seeking approval for tavern liquor and retail gaming licenses, but was denied because of false information contained in his application. Most notably, Tarango failed to declare that between 2000 and 2010 his driver's license had been suspended on four different occasions — once in 2000 for a driving while ability impaired conviction and three times for failure to pay child support.