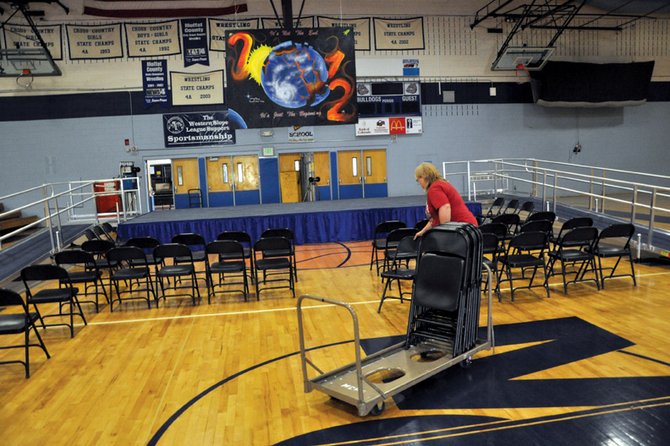 Dixie Hatfield, Moffat County High School head custodian, sets up chairs Monday morning in the MCHS gym in preparation for graduation ceremonies, which take place at 10 a.m. Saturday. Other events are scheduled this week at the high school, including an awards ceremony Tuesday and a baccalaureate ceremony Wednesday. Both events take place at 7 p.m. in the MCHS auditorium, 900 Finley Lane.
Stories this photo appears in:

MCHS gears up for graduation, year-end ceremonies
A painting with the numbers "2012" in fiery red lettering hung in the Moffat County High School gymnasium Monday morning. "It's not the end," it read. "It's just the beginning." The artwork and a stage set up beneath it were among the first signs that both an end and a beginning are approaching for the class of 2012. Graduation ceremonies are scheduled for 10 a.m. Saturday at the MCHS gym, 900 Finley Lane. Doors open at 7:30 a.m. Saturday, and attendees are encouraged to arrive early, "because you're not going to find a seat at 10 o' clock," MCHS Principal Thom Schnellinger said.