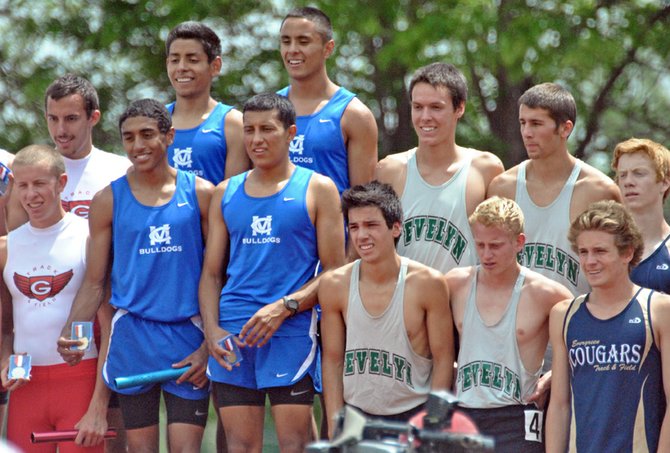 Members of the Moffat County High School 4-by-800-meter relay team, clockwise from lower left, Alfredo LeBron, Johnny Landa, Miguel Molina and Rene Molina take the top spot on the medal podium Thursday after winning the 4A state title at Jefferson County Stadium in Lakewood. The team ran the race in 7 minutes and 53 seconds, six seconds faster than the rest of the field and three seconds faster than the school record-breaking performance from a week ago at regionals in Grand Junction.
Stories this photo appears in:
Going into Thursday's 4A state track finals at Jefferson County Stadium in Lakewood, Moffat County High School track coach Todd Trapp was confident his 4-by-800 meter relay team was about to embark on something special. "They get really excited about coming down to the state meet because they get to compete against the top people in the state," the coach said. "And coming down here after breaking the school record was exciting for them." A week earlier seniors Alfredo Lebron, Rene Molina, Miguel Molina and Johnny Landa scorched through the Western Slope League meet in Grand Junction taking first place in the regional relay race, which boosted the Bulldogs track team to a second-place WSL finish overall. The team crossed the finish line in 7 minutes and 56.62 seconds, breaking the eight-minute barrier and destroying the previous school record by a full eight seconds.