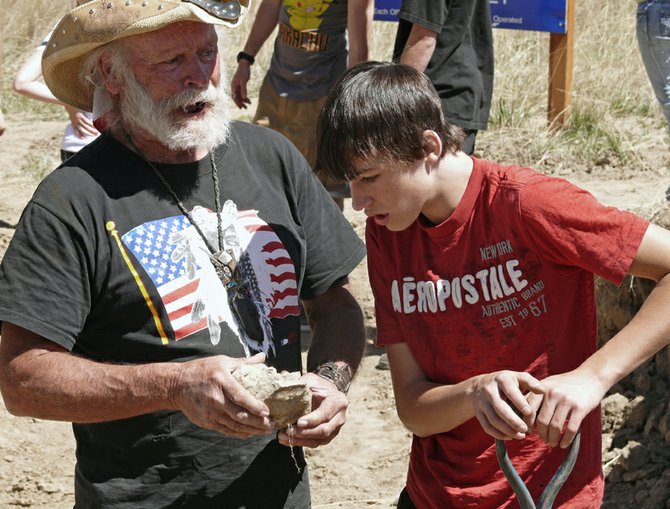 Jan Roth, left, of the Sundance Research Institute, explains to Steamboat Springs High School sophomore Nick Vaughan how to identify the different types of fossilized plants discovered in rocks excavated from a potential Columbian Mammoth site in Craig. The first day of the dig did not yield any mammoth remains, but Roth was encouraged by plant fossils and another discovery of what could be a hearth.
Stories this photo appears in:

It only took a few hours before a potential Columbian Mammoth site in Craig began unveiling its hidden treasures beneath the surface. Although it's going to take many months and a lot of hard hours before Craig and Steamboat Springs high school students reach the depth where the remains of as many as three mammoths could be located, the site is already producing exciting discoveries including an array of fossilized plants and a potential hearth site. On Wednesday, more than 30 students from Steamboat Springs High School put their shovels into the ground at the mammoth dig site near 12th and Pine streets in the Old Craig View neighborhood. Connor Mayo, a Steamboat Springs High School senior, first discovered what could be a hearth site, which are the remains of a camp or cooking fire.