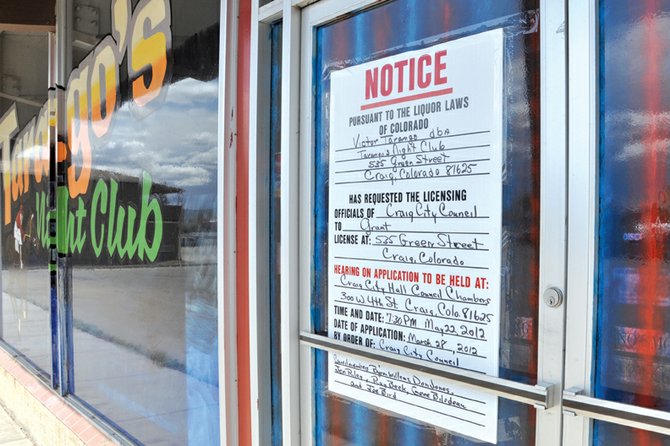 A notice of a liquor license hearing May 22 for Tarango's Night Club hangs on the door Monday at 535 Green St. Residents are circulating a petition against the liquor license approval, which they plan to present Tuesday to the Craig City Council.
Stories this photo appears in:

A public hearing slated for Tuesday night on a proposed Craig nightclub has been postponed until May 22. More than 25 residents attended Tuesday's Craig City Council meeting, including Archie and Dorcas Albaugh, who oppose Steamboat Springs resident Victor Tarango's aspirations of opening Tarango's Nightclub at 535 Green St. The Albaughs plan to be out of town May 22 and wanted to make sure their concerns about the nightclub were included in the council record. "I was quoted in the newspaper, rightfully so, that I would be hearing noise from the place," Archie told council members. "What the paper didn't quote is Moffat County has been statistically shown to be one of the most unhealthiest places to live on account of the smoking and drinking.

If a proposed nightclub gets the nod from the Craig City Council this month, Archie Albaugh is worried it won't bode well for his neighborhood. "I'm convinced I will be hearing Tarango's if Tarango's goes in," he said, referring to a new business that has yet to open near his home in the 600 block of Pershing Street. Albaugh put his concerns on paper, signing a petition slated to go before the council today.