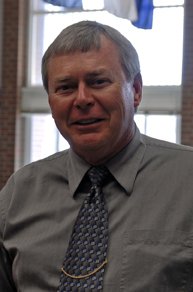 Chuck Grobe
Stories this photo appears in:
Rep. Scott Tipton, R-Colo., partnered with four other western congressmen to introduce a piece of legislation, the Sage Grouse Protection and Conservation Act, on May 22 that would prevent sage grouse from being listed as threatened or endangered for ten years. This is the second time this session Congress members proposed this type of legislation as an effort to press agencies to rethink their approach to listing sage grouse species.
Moffat County Commissioner Chuck Grobe is headed to Washington, D.C. on Wednesday to testify on behalf of the county's oil and gas industry and job creation.
Wherever Chuck Grobe goes these days, he seems to be asked the same question: "How's the golf game?" Known as one of the better ball strikers in Craig, it's not uncommon for Grobe to play as many as 54 holes in a week. But golf has taken a backseat lately to more pressing endeavors for Grobe, who's only played 27 holes this season.