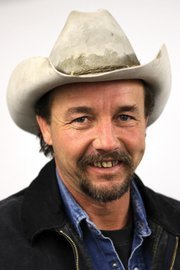 Rick Barnes
Stories this photo appears in:
With new party, local man to oppose Grobe for district 2 commission seat
Craig resident Rick Barnes has maintained a relatively low profile since the beginning months of the 2012 campaign season. Barnes is running as a write-in candidate against GOP primary election winner Chuck Grobe for Moffat County's district 2 commission seat. Barnes on Thursday broke his silence to announce he has switched to the American Constitution Party and plans to stay in the race against Grobe because of "a few differences of opinion." However Barnes said he wasn't motivated to thrust himself back into the race because of his own aspirations to win a county government seat.
Wherever Chuck Grobe goes these days, he seems to be asked the same question: "How's the golf game?" Known as one of the better ball strikers in Craig, it's not uncommon for Grobe to play as many as 54 holes in a week. But golf has taken a backseat lately to more pressing endeavors for Grobe, who's only played 27 holes this season.