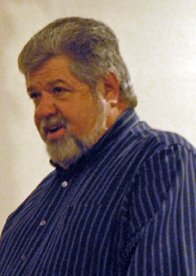 Dave DeRose
Stories this photo appears in:

DeRose focused on keeping employees employed
On Tuesday one of the races for Moffat County Commissioner took an interesting turn. With just 34 days until the November general election John Kinkaid, 59, unaffiliated candidate for Moffat County Commission's District 1 seat, announced in a news release he would not return to his post at Craig Station as a control room operator, opting instead to dedicate the entire month of October to his campaign. And just three days into the month Kinkaid said there's been no shortage of activities to occupy his time. "This is a pretty huge gamble taking a month off from work," Kinkaid said Tuesday night. "If today was any indication of how busy it's going to be I feel good I made the right decision."
Wherever Chuck Grobe goes these days, he seems to be asked the same question: "How's the golf game?" Known as one of the better ball strikers in Craig, it's not uncommon for Grobe to play as many as 54 holes in a week. But golf has taken a backseat lately to more pressing endeavors for Grobe, who's only played 27 holes this season.