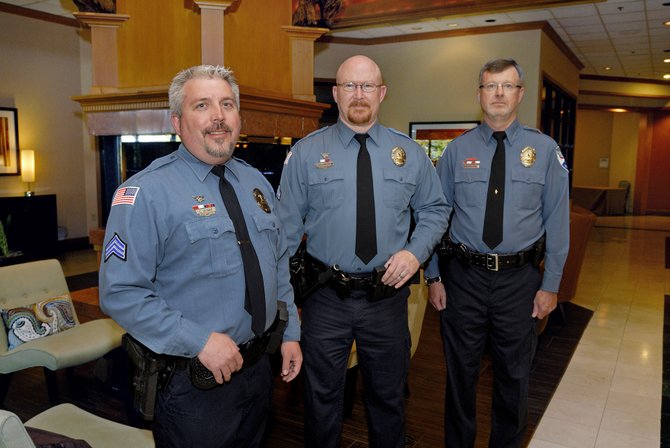 Craig Police Department members, from left, Sergeant Corey Wagner, Officer Mike Edwards and Officer Lance Eldridge were named Officers of the Year by the Colorado Law Enforcement Officers Association Friday for pulling a Craig resident from his burning house in February. The man, Patrick Hunter, later died from injuries sustained in the fire, but Hunter's children both said the officers were deserving recipients.
Stories this photo appears in:
When Craig Police Department officer Mike Edwards knocked on the door of a burning house on the night of Feb. 7, he didn't expect anyone to answer. "People were saying, 'There's nobody in there,' but for some reason, with a car parked in the driveway, I didn't know if there was anybody in the house," said Edwards, a 10-year police veteran. "I went up and knocked on the door and a guy from the inside said, 'Come on in.'" The man inside the house, 75-year-old Patrick Hunter, was trying to escape from a fire that was engulfing his home at 1912 Woodlawn, a fire that claimed the life of his ex-wife and live-in companion, Ursula Hunter.