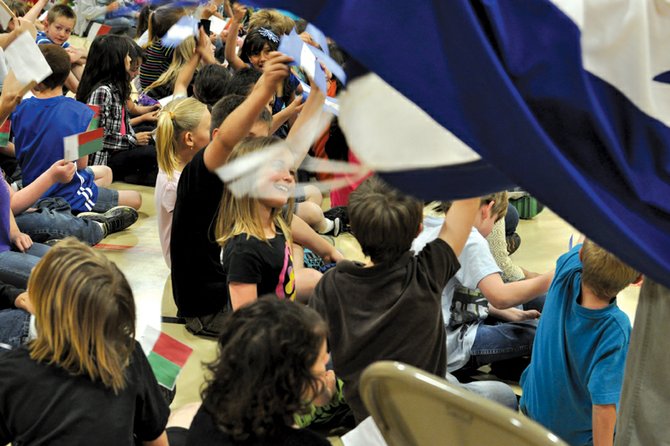 Students in Melany Neton's second-grade class at Sunset Elementary School wave their Honduran flags as Neton, not pictured, waves a full-size flag above the crowd Monday during an Olympic torch lighting ceremony at the school. The ceremony included the running of a paper "torch" and an introduction to the school's two-week mock Olympic games.
Stories this photo appears in:

Aaron Colby set his face in a resolute grimace Monday as he trotted through the Sunset Elementary School gym, a torch clutched in his determined hands. The Sunset Elementary kindergartener wasn't carrying the real icon of the Olympic games. A paper cone with red and orange construction paper flames took the place of the torch that will signal the beginning of the international sporting event this summer. Aaron didn't waver as he carried the torch dutifully to Moffat County High School track athletes, who would run it around the gym before the finale.