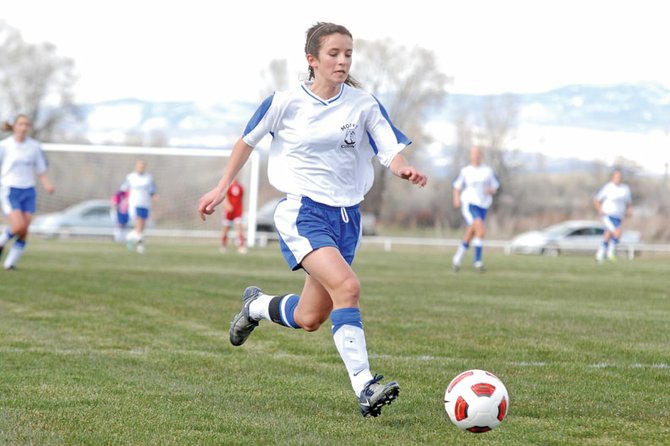 Kelly Ciesco, a Moffat County High School senior, scored the first goal of the season for the MCHS girls varsity soccer team on Friday against Grand Valley, but the Bulldogs defense fell flat in a 3-1 loss. Head coach Harry Tripp said the girls will need to work on playing fundamental ball if they want to bounce back from Friday's loss.
Stories this photo appears in:
The Moffat County High School girls varsity soccer team got its first goal of the season Friday against Grand Valley, but not much else went right for the Bulldogs. Poor passing and mental mistakes paved way for the Grand Valley offense to put 36 shots on goal en route to a 3-1 victory over MCHS. "I thought we played horrible," head coach Harry Tripp said. "We couldn't pass the ball and fundamentally, we had four or five bad throw ins. It was the basic stuff like not putting our foot down when passing in and passing the ball to the other team that cost us, and I don't really have an answer why we couldn't do the fundamentals." Harry, who said he is usually level headed when things go wrong, had to try something different at half time.