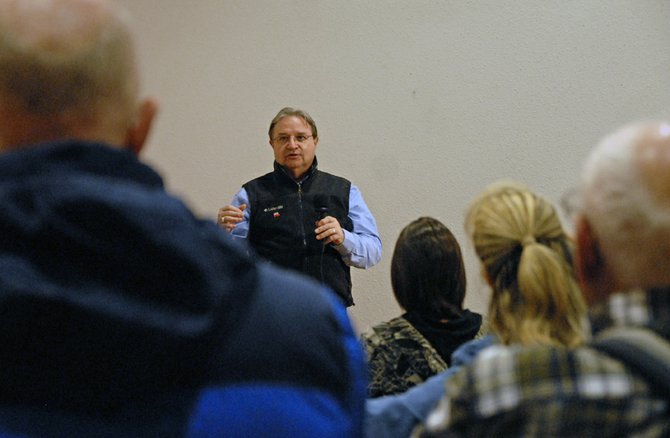 Ron Roesener, a Republican candidate for Colorado House District 57, addresses members of the Bears Ears Tea Party Patriots during a March 1 meeting at The Center of Craig, 601 Yampa Ave. The local tea party chapter prides itself on being unaffiliated from any political party and its meetings are open to people of all political persuasions.
Stories this photo appears in:

There's an old adage — don't believe everything you read or hear. Yet news reporters and anchors have continually reported the demise of the national tea party movement, portraying organization members and chapters around the country as being little more than gun-toting, conservative extremists from the far radical right. This isn't the impression one gets when sitting down and discussing politics and political views with members from the Craig tea party chapter — the Bears Ears Tea Party Patriots. Most members go against the grain of negative stereotypes. "There's a huge misunderstanding of what the tea party is all about," said Carol Haskins, a Bears Ears chapter member. "People think we are all a bunch of radicals, but we have worked really hard to build a reputation in this community.