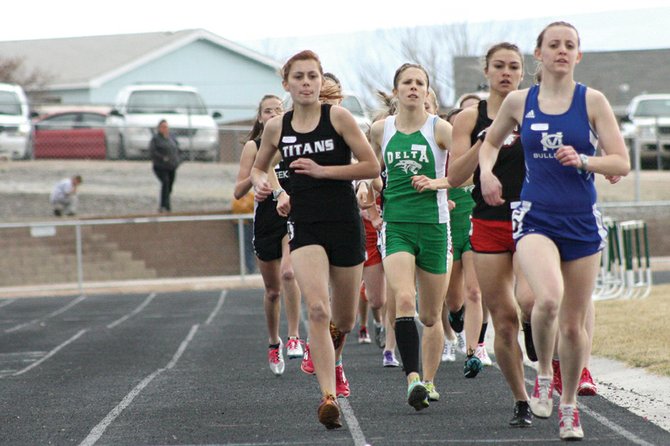 Eryn Leonard, a Moffat County High School junior, leads a pack of girls during the 800-meter run Saturday at the Delta Invitational. Leonard finished seventh to help lead the girls team to a 16th-place finish overall and the boys team finished fifth out of 20 teams.
Stories this photo appears in:

Todd Trapp said the early part of the track and field season is used to get kids in the right kind of physical shape. While the athletes want to run great times early, Trapp, the Moffat County High School track and field coach, said with the right conditioning, the best times will come toward the end of the season as they push to qualify for the state meet. Senior Andy Browning's time in the 200-meter dash Saturday at the Delta Invitational sets him up to finish among the top sprinters in the state. In the Bulldog's third meet of the season, Browning took third place in the 200-meter dash with a time of 23.9 seconds, only .4 seconds off the time he posted at last year's Western Slope League meet.