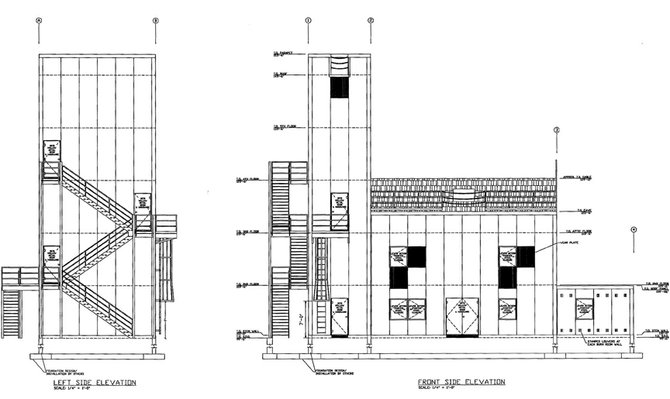 A side view drawing of the Craig Rural Fire Protection District's proposed training tower and live burn structure which could be completed by the end of summer. The building will provide Craig Fire/Rescue volunteers with the opportunity to participate in state mandated live burn training at home.
Stories this photo appears in:

By the end of summer, the Craig Rural Fire Protection District could have a state of the art facility to provide its volunteers with live fire training in Craig. During its regular monthly meeting Thursday, the Fire District Board of Directors reviewed plans to construct a training tower and live burn building on Hospital Loop Way, a few hundred yards southwest of The Memorial Hospital of Craig. The board unanimously granted the planning team, consisting of Byron Willems, fire district board president; Chris Nichols, board secretary/treasurer; and Craig Fire/Rescue Chief Bill Johnston, a few weeks to review the planning documents before rendering a final decision. According to those plans the square tower will be five industrial stories, or 100 feet tall. It will feature staircases and large empty rooms that can be customized for a variety of firefighting scenarios.