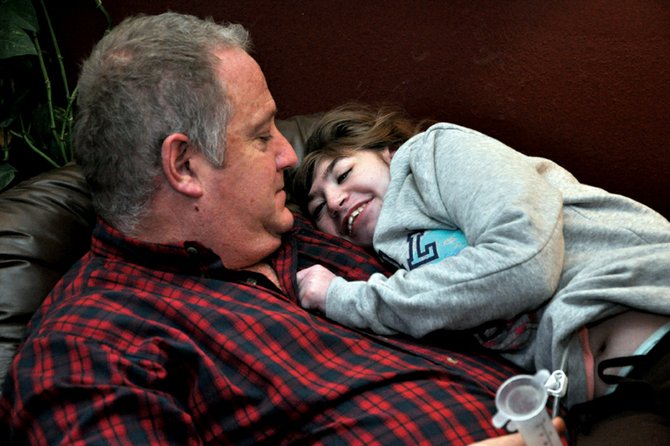 Katelynn Hildebrandt, 16, smiles at her father, Todd, as he prepares to feed her early one morning in mid-February. Because Katelynn is legally blind and deaf and cannot speak, her parents may never know how much of the world she perceives or understands, yet she expresses her affection for them during the most routine acts of the day.
Stories this photo appears in:

In Katelynn Hildebrandt's room there are no posters of teenage heartthrobs, no pictures of friends, no cell phone, no computer or any other trademarks of a typical 16-year-old girl. Instead, a group of dolls holds silent conference on a dresser near her bed. Mickey and Minnie Mouse dolls smile placidly from the top of a nearby bookcase, while plush lambs and rabbits fill a shelf above a row of books. Katelynn did not choose the toys, the books or anything else in her bedroom, the typical bastion of teenage self-expression and freedom.