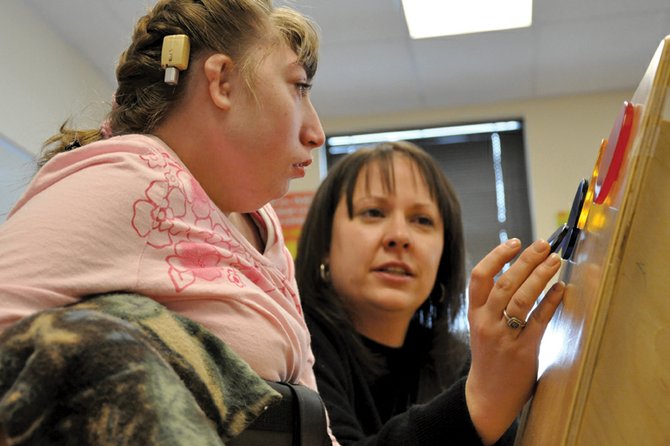 Jennifer Shirley, a Craig Middle School special education teacher, works with Katelynn Hildebrandt, 16, in the special education classroom at the school in mid-February. Because Katelynn cannot speak, her teachers rely on subtle signs, including eye gaze and small movements, to determine what the CMS eighth-grader is thinking and feeling.
Stories this photo appears in:

In Katelynn Hildebrandt's room there are no posters of teenage heartthrobs, no pictures of friends, no cell phone, no computer or any other trademarks of a typical 16-year-old girl. Instead, a group of dolls holds silent conference on a dresser near her bed. Mickey and Minnie Mouse dolls smile placidly from the top of a nearby bookcase, while plush lambs and rabbits fill a shelf above a row of books. Katelynn did not choose the toys, the books or anything else in her bedroom, the typical bastion of teenage self-expression and freedom.