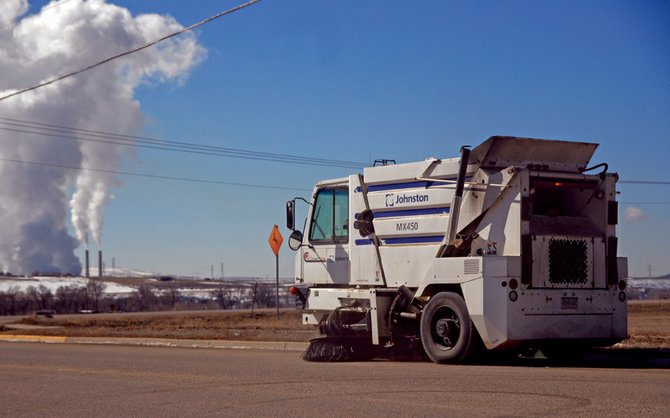 Scott Shaffer, an equipment operator with the Craig road and bridge department, sweeps Mack Lane near Mariana Way on Thursday morning in Craig. Co-worker Dwayne Gonzales said this is the first time in his 14 years with road and bridge that the sweepers were running the first week of March.
Stories this photo appears in:

Different people define spring's arrival in different ways. For some, it's warm weather, longer days and melting snow. For others, it's the return of Sandhill Cranes, spawning rainbow trout in the Yampa River or opening day at Yampa Valley Golf Course. But for employees with the City of Craig's road and bridge department, there is no surer sign of the coming thaw than the day they garage their snowplows to take the wheel behind one of the city's four mechanical street sweepers. Dwayne Gonzales, equipment operator and an employee of the road & bridge department since 1998, was working Thursday near the Woodbury subdivision cleaning up sand, dirt and gravel winter left behind.