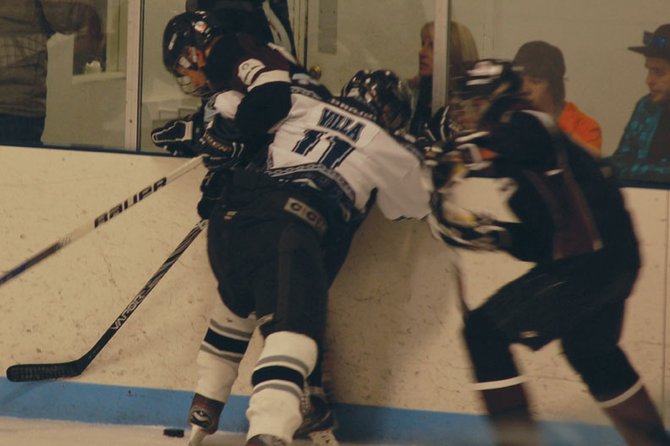 Dylan Villa, a Moffat County High School sophomore, pins a Grand Valley competitor against the wall during the Bulldogs' Frozen Four tournament. The team went 1-2 for the weekend, beating Grand Valley, 4-0, in the second round.
Stories this photo appears in:
The pulsing sounds of the musical score to "Rocky" could be heard Saturday afternoon throughout the Moffat County Ice Arena. Not the familiar "Gonna Fly Now" or "Eye of the Tiger" tunes usually associated with the movies, but the intense, wordless beats that play when the Italian Stallion is taking a pounding from Apollo Creed in the double-digit rounds of his biggest fight ever. Members of the Moffat County Bulldogs club hockey team were on both sides of the underdog story this weekend, but just as Rocky Balboa found a happy ending amid defeat, so did they. The Bulldogs finished third in the Rocky Mountain Youth Hockey League Frozen Four tournament held Saturday and Sunday at their home rink.