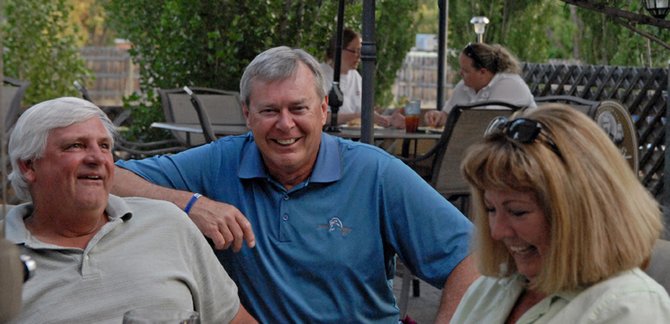 Chuck Grobe, middle, a Republican candidate for the Moffat County Commission District 2 seat, celebrates his primary election victory Tuesday night over incumbent Moffat County Commissioner Audrey Danner during a Friends of Chuck Grobe victory party at The O.P. Bar and Grill. If elected in November, Grobe said he plans to bring transparency to the office.
Stories this photo appears in:

Chuck Grobe, a Republican candidate running for Moffat County Commission's District 2 seat, said Tuesday night his sights are now set on November's general election. More than 1,950 Moffat County voters cast a ballot in the Republican primary election contest between incumbent Moffat County Commissioner Audrey Danner and Grobe. According to the final, but unofficial, results, Grobe earned a slot in the general election ballot by securing 1,238 votes, or 63 percent. Danner received 719 votes, or 36 percent.