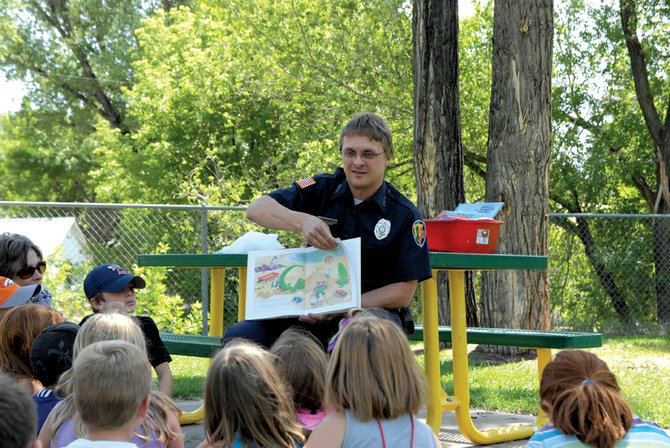 Firefighter Matthew Walker, of Craig/Fire Rescue, reads to a group of children Tuesday in Veterans Memorial Park as part of "Light Your Fire for Reading," an event designed to encourage children to read during the summer. Other reading events take place at 5 p.m. July 10 at the Craig Swimming Complex, 605 Washington St., and from 1 to 4 p.m. Aug. 14 at Colorado Northwestern Community College's Craig campus, 2801 W. Ninth St.
Stories this photo appears in:

In one respect, reading isn't unlike sports. Excelling at either activity takes practice, said Sarah Hepworth, East Elementary School principal. "That's really the key to being a successful reader is just practicing your reading every day, like practicing swimming or practicing running or practicing golfing," she said. "You've got to just read." She and other elementary school principals, as well as Moffat County School District literacy coordinators, are introducing a new summer reading program this year to sharpen elementary school students' reading skills.