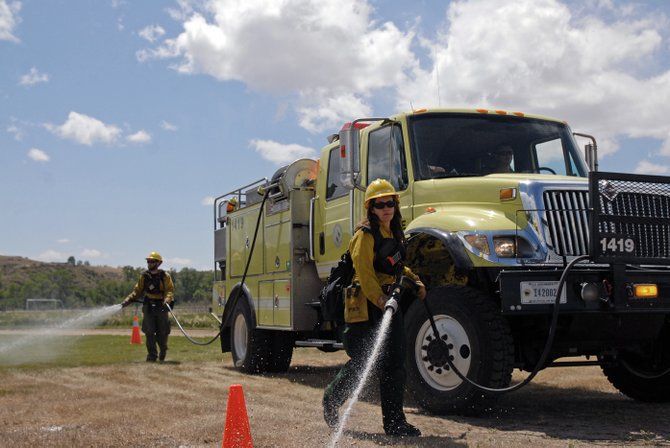 Bureau of Land Management firefighters Jamie Geerdes, front, and Jeremiah Taylor practice mobile attack skills during a two-day wildfire orientation in May at Loudy-Simpson Park in Craig. The training event was organized by the Northwest Colorado Fire Management Unit, of which Moffat County is a member.
Stories this photo appears in:

Whenever fire officials scout Moffat County, they see and hear the same things, particularly west of the Continental Divide. Thin winter snowpack levels coupled with minimal springtime moisture have resulted in an abundance of wildfire fuels throughout the county. And an early start to the fire season on the Front Range has local firefighters bracing for what could be the busiest year in recent memory. "We've had a flurry of activity already, although it has primarily been on private land," said Lynn Barclay, public information officer for the Northwest Colorado Fire Management Unit. "And our fuels are burning down to white ash, which is a good indicator of an active fire," added Dave Toelle, assistant fire management officer for the Bureau of Land Management.