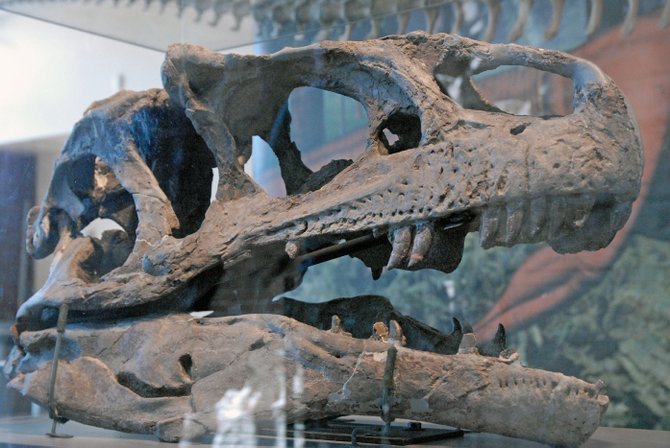 A skull of an Allosaurus, a meat-eating predator of the sauropod species discovered at Dinosaur National Monument, is on display in the Quarry Exhibit Hall in Jensen, Utah. The quarry reopened in October 2011, six years after monument officials closed it because of structural issues. More than 64,000 people have visited the monument since it reopened last year.
Stories this photo appears in:

National Monument enticing visitors since 2011 reopening
There's a phrase common among those who visit Colorado — they "came for the winter, but stayed for the summer." Similar things can be said about visitors to Dinosaur National Monument, who sometimes travel long distances to view the prehistoric remains, for which the park is named, and are drawn back by the scenic landscapes in and around the area. For a while, no one was allowed inside the Quarry Exhibit Hall to view the "wall of bones" — the monument's famous bone jam featuring the remains of hundreds of animals representing 10 different sauropod species. In 2006, monument officials closed the Quarry Exhibit Hall because it lacked a foundation and unsteady soil conditions were causing structural damage.