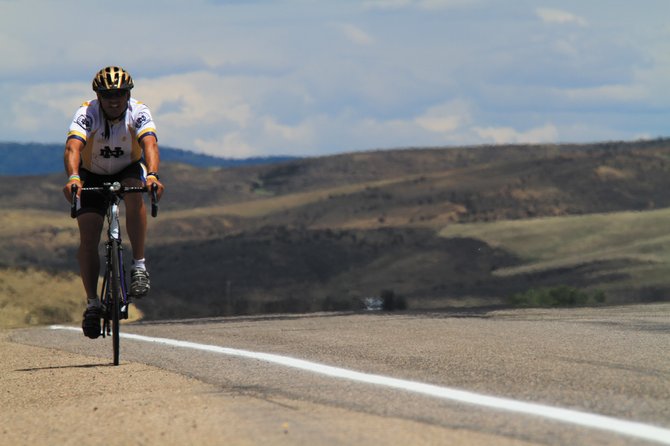 Greg Crawford, University of Notre Dame Dean of the College of Science, makes his way toward Craig during a ride Tuesday that took him from Granby to Craig. Crawford is riding across the country in order to raise funds for research on the disease Niemann-Pick Type C. He will finish in Pebble Beach, Calif., after covering over 3,200 miles.
Stories this photo appears in:
The University of Notre Dame's dean of the College of Science rode into Craig Tuesday as part of his Road to Discovery bicycle ride. Greg Crawford began his ride on May 21 in Boston, Mass., and has made his way across the country, riding around 80 to 160 miles per day. The ride from Granby to Craig was one of his more difficult, with 120 miles to cover and hills to climb. "It was a long ride today and we had a couple tough hills, plus some serious wind. And it seems like it's always a head wind. The wind is always in our face," Crawford said.