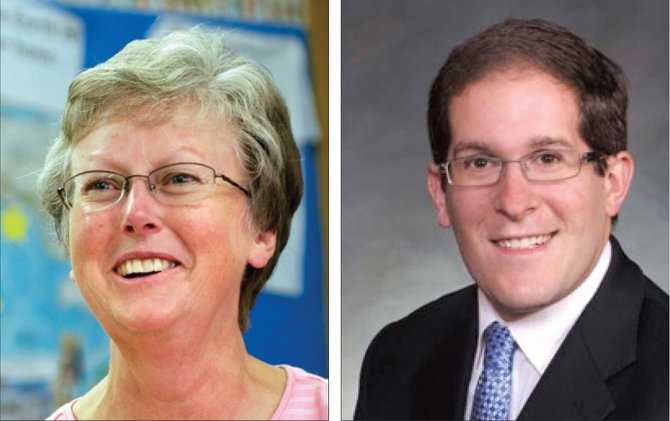 Sunset Elementary School teacher Cheryl Arnett (left) and Mark Ferrandino, Colorado House of Representatives minority leader, participated Tuesday in a conference call organized by President Barack Obama's re-election campaign. Both responded to recent comments made by Obama's presumed opponent in the upcoming election, Mitt Romney, concerning jobs for teachers, firefighters and police officers.
Stories this photo appears in:

A local teacher offered her view Tuesday about the Republican presidential frontrunner's recent comments about public sector jobs. "I guess I should have been surprised when Mitt Romney said that the path to economic prosperity is to cut teacher jobs, but honestly, I wasn't shocked," said Cheryl Arnett, a Sunset Elementary School first- and second-grade teacher. She and Mark Ferrandino, Colorado House of Representatives minority leader, were invited to weigh in on education during a conference call Tuesday with President Barack Obama's campaign staff. The call was in response to comments Romney made Friday during a campaign rally in Iowa. Romney, who visited Craig last month on the campaign trail, criticized the president's job creation plan, saying, "(Obama) says we need more firemen, more policemen, more teachers," ABCnews.com reported. "Did he not get the message in Wisconsin?" the website quoted Romney as saying in reference to a failed recall election last week to oust Republican Gov. Scott Walker. "The American people did. It's time for us to cut back on government and help the American people." Romney's remarks drew fire from Ferrandino, D-Denver.