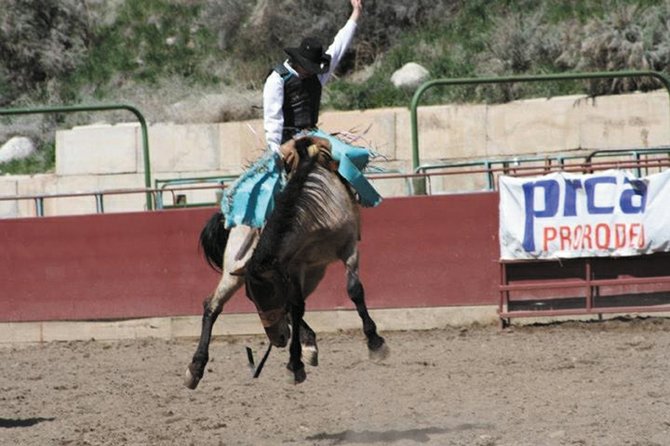 Garret Buckley rides the saddle bronco during a rodeo competition this year. Buckley, an incoming senior at Moffat County High School, was unable to compete at the Colorado state rodeo due to a collarbone injury, but was still good enough to qualify for the national rodeo in Rock Springs, Wyo.

Stories this photo appears in:

The Moffat County High School rodeo team is sending three members to the national competition in Wyoming after solid performances at the state rodeo. Rising seniors Wyatt Uptain and Garrett Buckley have qualified in saddle bronc (riding a saddled bronco for eight seconds), while Uptain and Denton Taylor, who just finished his freshman year at MCHS, qualified together in dally team roping. The state competition was last Thursday through Sunday at Lamar Community College in Lamar. Buckley was unable to compete due to a broken collarbone, but his performance at rodeos earlier in the year was already good enough to qualify him for nationals. Uptain, meanwhile, starred at the state competition, winning the all-around individual state championship and placing first in saddle bronc while he and Taylor finished third in team roping.