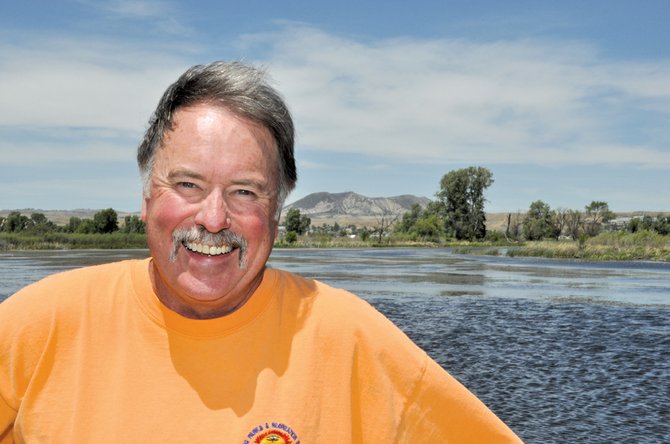 Dave Pike, Craig Parks and Recreation director, pauses from his preparations for the upcoming Whittle the Wood Rendezvous to pose for a photo Friday at Loudy-Simpson Park, the site of this year's event. Pike helped launch the annual wood-carving competition early in his career with the city.
Stories this photo appears in:

Dave Pike doesn't fit the profile of a button-down public official. His skin is tanned to dark bronze, and a baseball cap and sunglasses look as natural on him as a collared shirt and tie would on his colleagues in other Craig City Hall offices. What Pike does for a living doesn't jive with the popular notion of municipal government, either. City council meetings and budget season factor into his work, but they aren't what his department is all about. "Everyone says we're the Fun Department," the Parks and Recreation director said Friday morning. He's coached every sports program the department offers — basketball, football, soccer and T-ball are just a sampling — and he's not shy about officiating if he's shorthanded, he said. "Whether it's kids learning to swim or the first time that they get up and get a base hit in baseball … it's kind of rewarding to know that you were part of that process," said Pike, 55. He landed in the Parks and Recreation director's chair after taking a detour that required a uniform and a firm hand. As a newly minted Colorado State University graduate with a degree in outdoor recreation and park administration, he tried being a park ranger at Steamboat Lake State Park. But, as Pike would realize, he wasn't cut out to be an enforcer. He wasn't keen on the idea of "writing tickets when people were having fun," he said. He found his niche in municipal government, taking a job at the Fort Collins Parks and Recreation Department and later landing the director's role in the Monte Vista Parks and Recreation Department. His career in the field now 28 years and counting, he said, Not long after his arrival in Craig in 1996, he stumbled upon what would likely be a crown jewel in his career. It began with a problem. Trees that had graced what was then known as Craig City Park were dying and posing a hazard to park-goers, he said.