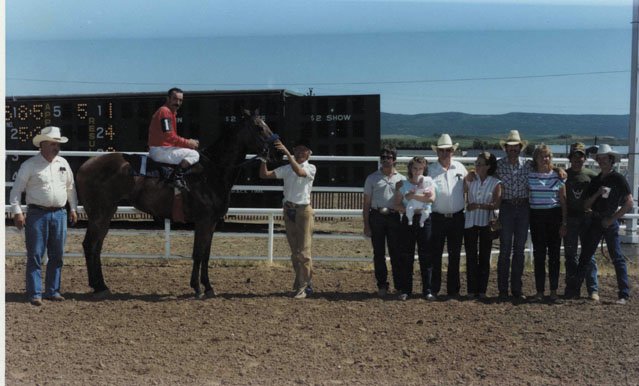 Jockey Jack Brown sits atop Jet Along It after winning a race at the Moffat Country Raceway, set up at the Moffat County Fairgrounds. Standing with the horse and jockey are owner Cap Atwood (left), trainer Marshal Bacon and family. Jet Along It won a half-mile, 70-yard race on June 15, 1985. Craig played host to three weeks of horse racing every summer from the late-1960s to mid-1980s
Stories this photo appears in:

The Belmont Stakes run today, but I'll Have Another will not be racing for a Triple Crown, and will not ever race again. The Kentucky Derby and Preakness Stakes winner was the 4-5 favorite to win the Belmont and complete the first Triple Crown in thoroughbred racing since 1978, but the horse's trainer, Doug O'Neill, confirmed the horse would not be racing due to a "little problem with his left front leg," on the Dan Patrick radio show. The late scratch came as a disappointment to members of the horse racing community in Craig. "That's a kick in the side of the head to horse racing," Craig resident Pete Pleasant said. "Having a horse going for the Triple Crown creates a lot of interest, especially among the media, which creates more interest among the general public. "The TV audience is going to go down and the Las Vegas bookies are going to be disappointed. I would think a lot less money will be bet on that race now." He added, however, "Those things happen. Those horses are fragile." Pleasant has been in the area all his life, and was heavily involved in horse racing when it came to Craig in the 1960s. During that era, the state of Colorado organized the Colorado Fair Circuit Racing Association, which sent horses, jockeys and trainers around the state each year starting in May, according to Pleasant. The traveling racers would start in Southeastern Colorado and make their way to cities all over the state, eventually coming through Craig for a few weeks each summer. Races took place at the Moffat County Fairgrounds. Pleasant recalls the first year for racing taking place in the late 60s, and said he was the track announcer that summer. In the following years, he was a member of the local committee which organized the event, found race sponsors and put together programs for each weekend. According to Pleasant, the first day of racing in Craig only took in about $8,000 in bets, but it continued to grow and was regularly boasting numbers from $75,000-$90,000 in bets on a given day. The horse racing weekends in Craig became big enough for restaurants in Steamboat Springs to charter buses to Craig after breakfast on race days, he said.