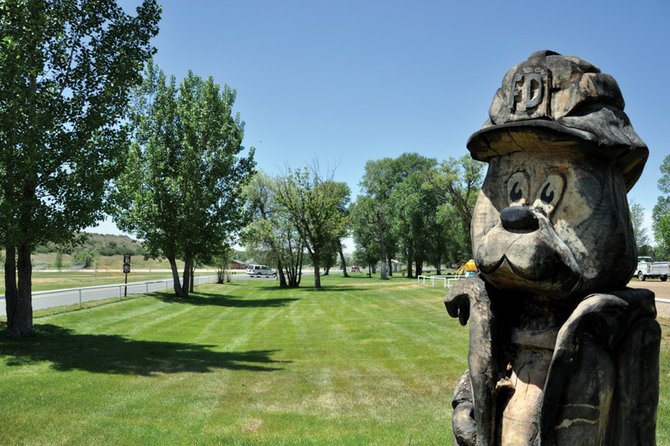 A wood carving from a past Whittle the Wood Rendezvous stands in Loudy-Simpson Park, the venue for this year's annual event. As of Wednesday, 12 participants, including newcomers from Ohio, California and Missouri, were entered in the chainsaw carving competition.
Stories this photo appears in:

Dave Pike, Craig Parks and Recreation director, scanned Loudy-Simpson Park on Wednesday afternoon. He was trying to imagine what the grassy lawns would look like with a stage, arts and craft booths, wood carvers and anywhere from 3,000 to 5,000 people who turn out for the final day of the Whittle the Wood Rendezvous. Hosting one of the city's biggest events at a new location posed challenges to Pike and his staff. "When we were at City Park (now known as Veterans Memorial Park), we'd done it so many years in a row that it kind of ran like clockwork for us," he said. A wood-carving competition headlines the four-day event as competitors from around the region and nation transform wood stumps into sculptures that sell to the highest bidder at an auction June 16.