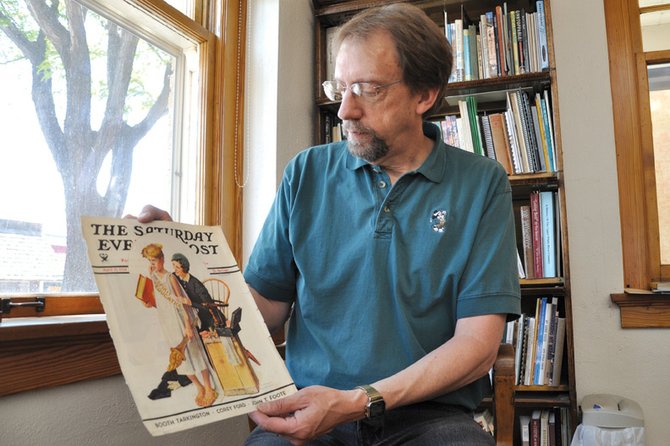 Dan Davidson, Museum of Northwest Colorado director, holds an original Saturday Evening Post cover featuring the "Spirit of Education" on Tuesday in his office. The museum is exhibiting the original painting by Norman Rockwell, as well as all 323 Saturday Evening Post front-page tear sheets featuring Rockwell's work, but Davidson was able to purchase this magazine cover online and plans to keep it at the museum after the exhibit ends in September. "I guess it's going to be our memento," he said.
Stories this photo appears in:
The Museum of Northwest Colorado unveiled an exhibit in mid-May showcasing one of America's most well-known artists. Nearly a month later, the crowds are still coming. "We have been busy, there's no two ways about it," museum registrar Mary Pat Dunn said about the foot traffic generated by a display of Norman Rockwell's art for The Saturday Evening Post. The exhibit opened May 14 and features all 323 covers Rockwell illustrated for the Post, as well as "Spirit of Education," an original painting on loan from the Norman Rockwell Museum in Stockbridge, Mass. Although it's difficult to pin down exactly how many visitors came to the museum specifically for the exhibit, museum staff members believe Rockwell's art has had an impact on attendance numbers. In May, nearly 2,200 visitors streamed into the museum. Compare that to May 2011, when about 1,400 people walked through the museum's doors. "There's been a lot of people that mentioned that they come specifically for Rockwell," Assistant Director Janet Gerber said. The surge follows a four-month period from January through April when the museum's attendance numbers lagged by 8 percent from the same time in 2011, she said. "(Attendance) was down significantly, and now it's up even more significantly, so it's exciting," Gerber said.