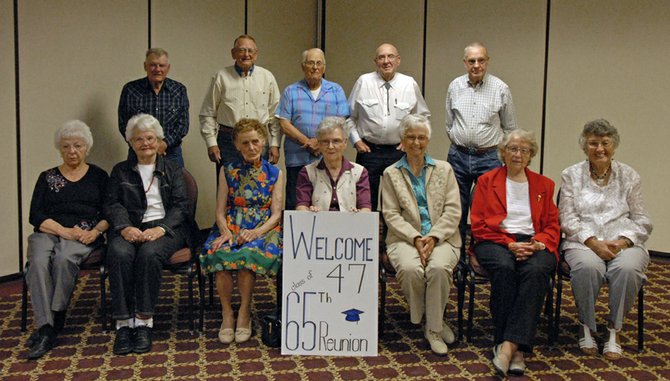 The Craig High School Class of 1947 is shown above. Front row, from left, is Marceline (Bordeaux) Bott, Kathleen (Myers) Cline, Stella Hall, June (Irick) Collins, Grace (Brenner) Bishop, Maxine (Miller) Updike and Helen (Roe) Bond. Back row, from left, is Tom Petersen, Chuck Cline, Jim Solace, Glen Sherman and Dean Visintainer.
Stories this photo appears in:

It was a weekend of reconnecting with friends and reliving old memories for 10 members of the Craig High School Class of 1947, who returned to Craig to celebrate their 65th reunion. One of the recurring stories among classmates was "sneak day," an annual steal the flag challenge between the junior and senior classes each spring. As juniors, the Class of 1947 was able to protect the school's American flag by greasing the entire length of the flag pole. They backed up their performance the following year by outfoxing the junior class en route to successfully capturing the flag.