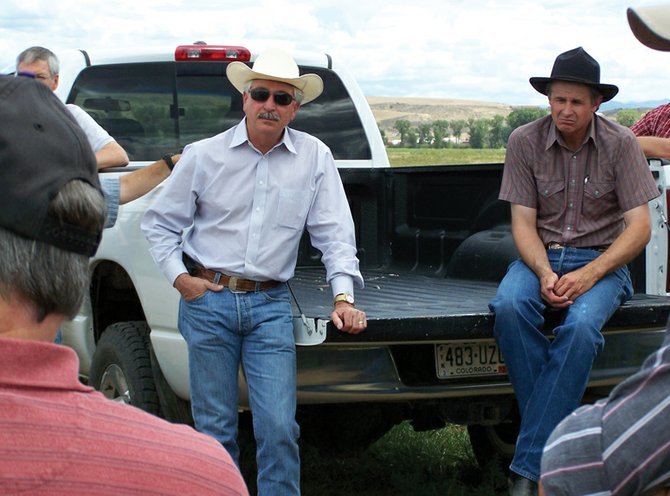 John Salazar, left, state agriculture commissioner, and T. Wright Dickinson listen to a presentation at Pankey Ranch as part of a drought tour Salazar and other state officials, including Hayden resident Al White, went on Tuesday in the Yampa Valley. The tour stopped at ranches near Craig, Hayden and Steamboat Springs.
Stories this photo appears in:

Despite an ironically timed thunderstorm, various state officials toured the Yampa Valley on Tuesday, hoping to see firsthand the effect of this summer's drought. The group included John Salazar, state agriculture commissioner; John Stulp, policy advisor on water; Al White, former Colorado Senator in District 8 and current director of the state tourism office; and representatives from other state and federal agencies. The officials made three stops along the tour to meet with local ranchers and agriculture officials. For White, a Hayden resident, the tour was mostly about showing his colleagues at the state capital what life has been like for ranchers and farmers in the Yampa Valley.