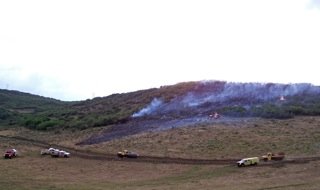 Craig Fire/Rescue firefighters responded Saturday to the Knez Wildfire 10 miles south of Craig. A lightning strike ignited the blaze Friday, burning two acres of private property. The fire flared again Saturday afternoon burning two more acres.
Stories this photo appears in:

The Knez Wildfire, which was ignited Friday night by a lightning strike, flared Saturday, burning two more acres about 10 miles south of Craig off Knez Divide Road. The total number of acres burned stands at four. Moffat County resident Robin Hamill said the fire began Friday night on land her family leases from Trapper Mine to raise cattle. On Saturday, she was helping the family install a water line to residences and hunting cabins west of Friday's wildfire site when she smelled smoke.