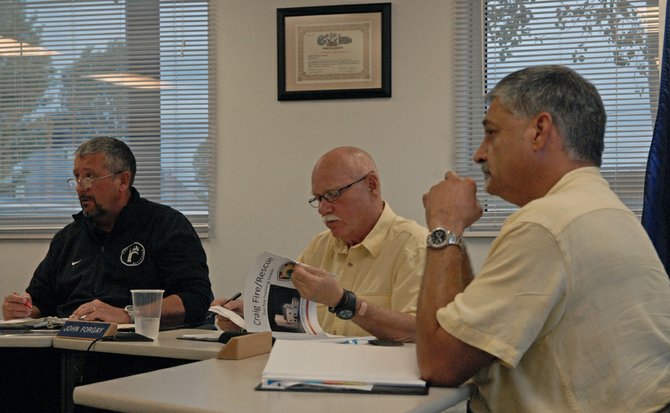 John Forgay, center, Craig Rural Fire Protection District Board member, reviews a hard copy version of the fire district's presentation on a live fire training tower proposed for construction in Craig. The power point presentation has been updated to reflect the board's plans at its alternate location on Industrial Avenue behind Kmart. It will soon be available for public view by visiting www.craigfirerescue.org.
Stories this photo appears in:

The Craig Rural Fire Protection District Board is on schedule to build a live fire training simulator before the end of the year on Industrial Avenue, behind Kmart. The fire protection district owns the property. On Thursday, fire board president Byron Willems updated fire department staff on the progress of the project. He reported that he attended the Craig Planning and Zoning Commission meeting Monday, when a 55-foot height variance for the tower was approved, 5-0. But the approval did not come without public comment and a longer than anticipated discussion about the project.