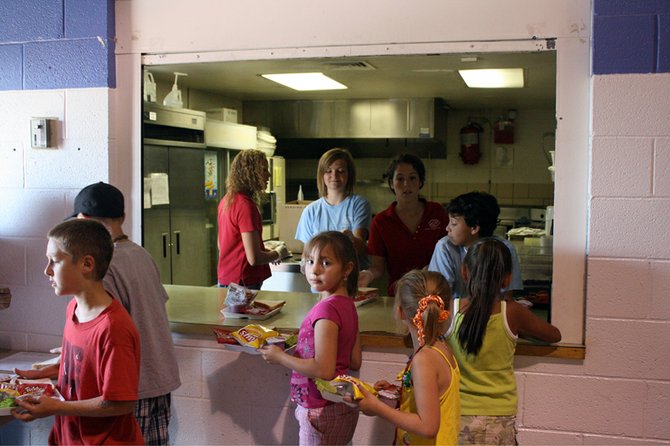 Staff at the Boys & Girls Club of Craig serve the free meal offered by the club, 1324 E. U.S. Highway 40, Thursday. The meal, along with a nutritious snack, is served every weekday during the summer through Aug. 17. Unit director Kim Maneotis said the meal is available to any child younger than age 18, even if they are not club members.
Stories this photo appears in:

Kim Maneotis said summer is a stressful time for parents in Craig. "During the summer months when kids are home for three meals a day, that puts quite a strain on families," said Maneotis, unit director for the Boys & Girls Club of Craig, 1324 E. U.S. Highway 40. To help relieve that strain, the Boys & Girls Club has partnered with the Moffat County School District to offer a midday meal and afternoon snack Monday through Friday to any interested child in Moffat County younger than 18 years old. Lunch prepared by MCSD food service employees is served at 11:20 a.m. and the afternoon snack is distributed at 3:30 p.m.