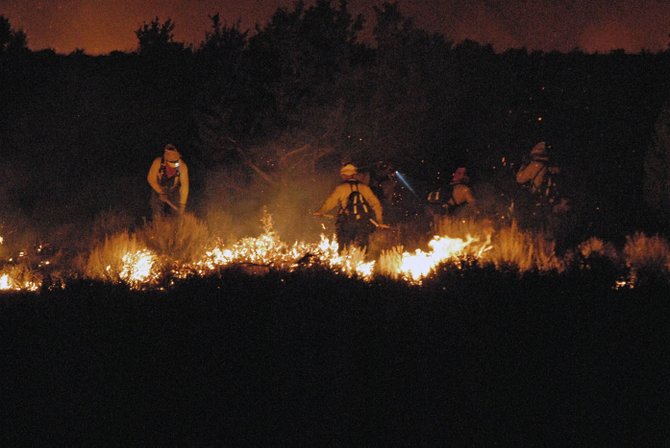 Bureau of Land Management firefighters backfire along Moffat County Road 59 South Tuesday night while battling the Cedar Knob Fire.
Stories this photo appears in:

Officials: Fire has grown to 1,150 acres
The Cedar Knob Fire continues to burn on private land off Moffat County Road 59 South about 20 miles south of Maybell, officials said Wednesday. Moffat County Sheriff Tim Jantz said firefighters with the Bureau of Land Management and the Moffat County Sheriff's Office worked on a fire line until 2:30 a.m. today. Firefighters and a Moffat County road and bridge bulldozer crew returned to the scene at 6:30 a.m., said Lynn Barclay, public information officer for the Northwest Colorado Fire Management Unit. There is no update on containment, Jantz said, but firefighters reported flames were active when they left the fire early this morning.