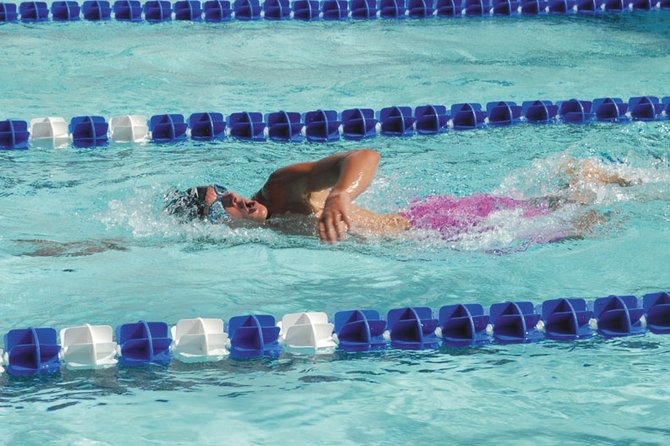 Matt Hulstine, 18, swims the 1,500-meter freestyle Friday at the Craig ABC swim meet. It was Hulstine's first 1,500 in two years, and he finished in 18:37.18. The swim meet continues at the Craig Swimming Complex today and Sunday.
Stories this photo appears in:

Swimming long distances is not the type of thing people normally volunteer for. Three members of the Craig Sea Sharks bucked that trend, choosing to do a 1,500-meter freestyle swim to kick off the ABC swim meet at the Craig Swimming Complex, 605 Washington St. The meet began yesterday and featured events from the eight and under age group in the afternoon, but it started with the 1,500, which wasn't scored for the team standings. Swimmers just had the option of doing it if they wanted. Of the four swimmers that chose to take the plunge, three were Sea Sharks. Matt Hulstine,18, Eryn Leonard, 17, and Marisa Hulstine, 13, decided to dive in to challenge themselves and try to have some fun.