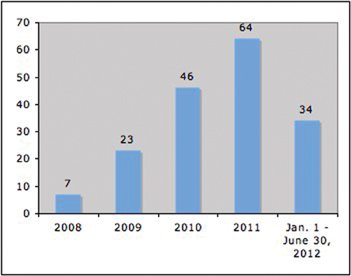 This graph shows the number of completed foreclosures, or foreclosures that went to deed and the owners lost the homes or properties, according to the Moffat County Treasurer's Office. The data includes all foreclosures, including those on commercial properties, but most are residential.
Stories this photo appears in:

Moffat County Treasurer Elaine Sullivan and her staff mainly deal with the concrete and quantifiable. But she sometimes sees the painful human impact of the statistics, particularly when they relate to a homeowner's worst nightmare come true. "I do know that there's been several people that have come in, and they're just horrified that they're going into foreclosure," Sullivan said. "They've all stated that they've tried to work out some sort of payment plan with the banks," but to no avail, she said.