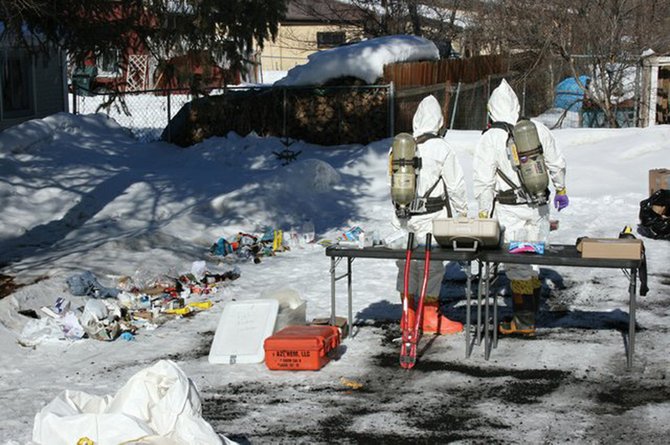 Hazardous materials personnel from the Drug Enforcement Administration removed toxic materials following a meth lab bust in January 2011 in Hayden. Jamison Fjoser, 37, pleaded guilty to manufacturing a controlled substance, a Class 2 felony. He was sentenced Sept. 23, 2011, in Routt County District Court to 12 years in the Department of Corrections.

Stories this photo appears in:

Marvin Cameron, All Crimes Enforcement Team commander, met Wednesday with area law enforcement officials to summarize last year's task force activity on narcotics investigations and seizures. Cameron's report was delivered to the six-member ACET Executive Board, which is comprised of Craig Police Chief Walt Vanatta; Moffat County Sheriff Tim Jantz; Steamboat Springs Police Chief Joel Ray; Routt County Sheriff Garrett Wiggins; Hayden Police Chief Gordon Booco; and 14th Judicial District Attorney Elizabeth Oldham. Of the 29 investigations conducted by ACET officers last year, 23 resulted in arrests. Four narcotics suspects went through the legal process last year and were sentenced to prison, including two Craig residents convicted of distributing methamphetamine.