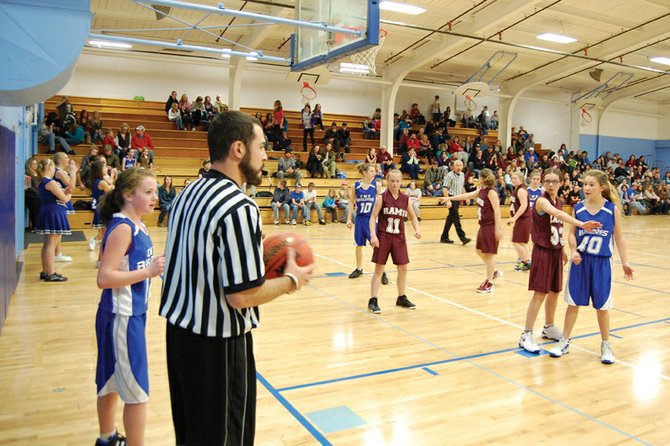 Emma Samuelson, left, prepares to inbound the ball from under the basket during the seventh-grade girls basketball team's game against Soroco on Thursday at Craig Middle School. The 7-0 Bulldogs won, 35-15.
Stories this photo appears in:

In October 2011, seventh-grader Alex Hamilton experienced the joy of a sports season capped off with a huge win when her volleyball team took top honors at the district tournament. Now, she and her teammates are well on their way to repeating the success with a different sport. The Craig Middle School girls basketball teams were at the top of their games Thursday afternoon when they hosted the Soroco Rams. The Bulldogs' seventh- and eighth-grade squads each overran their Oak Creek opponents from the opening tip. After taking the lead early in the first half, the seventh-graders had a comfortable 27-8 cushion at the close of the third quarter, with strong shooting from Mattie Jo Duzik and Josey King.
January 28, 2012 midnight