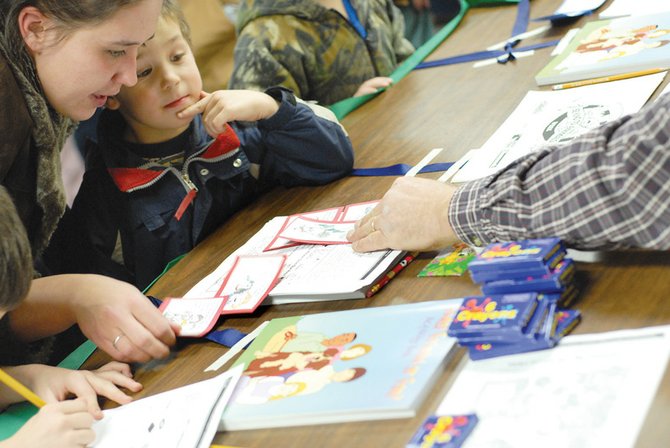 Austin Beason, 3, contemplates his next move with the help of his mother, Naomi, at the Humane Society of Moffat County's booth during the 2008 Literacy Carnival at Moffat County High School. This year's carnival takes place from 6 to 7:30 p.m. at Sunset Elementary School, 800 W. Seventh St.
Stories this photo appears in:

Thursday's literacy carnival designed to get children hooked on reading
Fishing can be a way for a child to hone his or her reading skills — if that child is fishing for words, that is. Playing putt-putt golf or cooking up a recipe can accomplish that goal. These and other games at Thursday's literacy carnival are tailored to show parents "that they can turn reading into games," said Amy Jones, a kindergarten teacher at Sunset Elementary School and co-president of the Sagebrush Reading Council, which is hosting the annual event. "Even though your child may not always want to sit down and listen to a book there's other ways you can engage them in literacy," she said.
January 23, 2012 10:07 p.m.