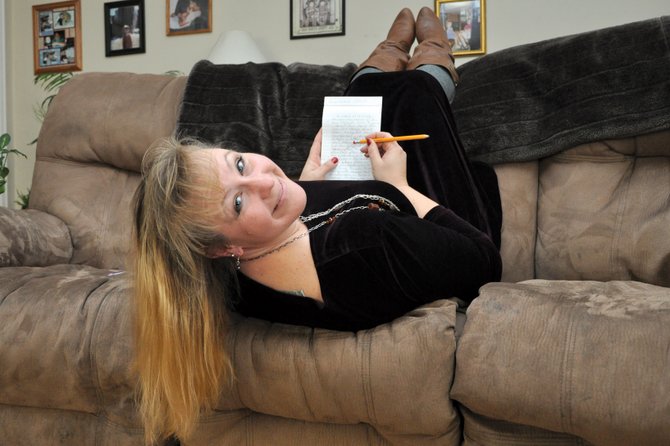 RaeAnne Hadley relaxes in an unusual position while she jots down ideas in her notebook. Hadley, a local author of four published works, recently won first place in the Extreme Author Makeover contest sponsored by Utah-based literary publicity and marketing firm, Master Koda. The nationwide contest offered writers free promotional tools to further their career.
Stories this photo appears in:

A Kindle Fire tablet was among the best of RaeAnne Hadley's Christmas presents from her family. With the capability of downloading e-books onto the hottest new device, the Craig writer was ready for reading. But, a phone call a week later alerted her to an equally big gift from people she had never met before. On New Year's Day, Hadley received news she had won first place in the Extreme Author Makeover, a writer's contest sponsored by Master Koda, a Utah-based literary marketing and publicity firm. Hadley said her response to the news was joyous.
January 14, 2012 midnight