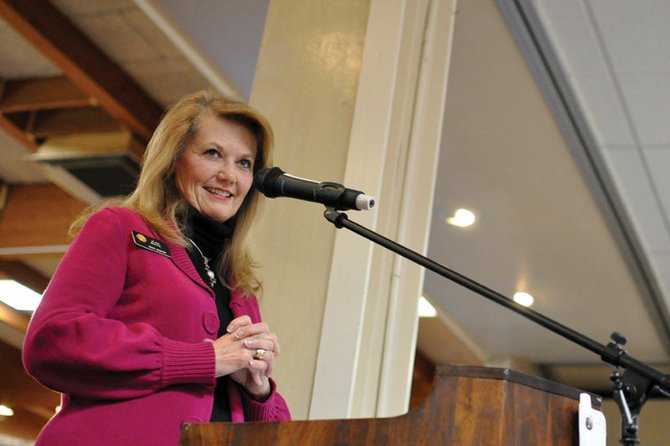 Colorado Sen. Jean White smiles from the podium as she addresses Jo Ann Baxter, former Moffat County School Board president, during Friday night's State of the County event at Holiday Inn. White spoke to a crowd of more than 80 people at the event, which also featured speeches from Moffat County Commissioner Audrey Danner and Craig mayor Terry Carwile.
Stories this photo appears in:

Gov. John Hickenlooper once said, "The core business of government is not to create jobs…entrepreneurs do that. But we can help. What we do here and how we do it matters." District 8 State Sen. Jean White, R-Hayden, relayed those words Friday night to more than 80 people in attendance for the State of the County dinner at the Holiday Inn of Craig, 300 S. Colorado Highway 13. The annual affair highlights the events of the previous year and forecasts the things to come at the state, county, city, and chamber levels.